About EnProve
My name is Dean Suckling and I started EnProve early in 2009 in response to a number of issues I had identfied on dairy farms in South West Victoria.
Intensification and larger scale farms combined with larger herds and more imported feeds and fodders have created some complex nutrient management issues.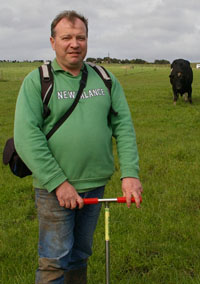 Increasing environmental awareness and market expectations and undoubtedly increased regulation will put extra pressure for better nutrient management. This will coincide with ever increasing prices for fertiliser.
Nutrient management has been largely confined to fertiliser use and there are some complications in the way that effluent is being applied. EnProve will give independent, honest and knowlegeable advice to help you and your farm flourish into the future.
We hope that some of our innovative approaches will assist you in your journey forward.
Our contact details are on the bottom of each page and we would welcome any contact even if to tell us about something you are doing.
Ultimately we all need a successful and well managed industry for ourselves and our kids.